A place to discover the latest and greatest in power pop releases.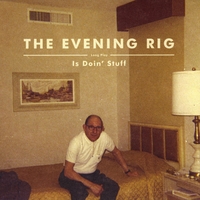 The Evening Rig-Is Doin' Stuff
. This Minneapolis band lives up to their hometown sound with 11 tracks of rip-roarin' Replacements-style rock'n'roll with a twinge of Americana. Fans of bands I've featured here like High on Stress and The Daylight Titans will find a lot to like here, from the blistering opener "The Steve McQueens" to the Westerbergian "Half Asleep" to the pensive yet rocking "Right Where She Wants Me". You can't always judge an album by its song titles, but "Goddamn, I Could Use a Drink" will give you a pretty good idea of what you're getting here. Here's some stuff to do: listen to the Lala embed below.
http://absolutepowerpop.blogspot.com/2009/05/friday-roundup.html
to see the write-up and to listen to the songs found within the Lala music player as described above.
Thanks, Absolute Powerpop!